Who is Taylor Ann Hasselhoff? wiki: Early life, Net worth, Career, Personal life, Facts
December 30, 2017
Who is Taylor Ann Hasselhoff?
Taylor-Ann Hasselhoff is an American actor, reality star, and real-estate agent. Hasselhoff has even ventured into the music industry but is primarily famous for her appearances in multiple reality shows most of which are focused on her family.
How was the Early Life of Taylor-Ann Hasselhoff?
Taylor-Ann was born to famous Hollywood parents David Hasselhoff and Pamela Birch on May 5, 1990. Taylor has a younger sister named Hayley. Taylor-Ann's middle name is Janice but she goes without it in
her professional career. She attended The Buckley School in Los Angeles before heading to the University of Arizona for her undergraduate studies. Taylor-Ann is affectionately called Tay by her close family and friends.
How did Taylor-Ann Hasselhoff start her career?
Taylor-Ann began her career as an actor by appearing in a 1999 episode of Baywatch playing the role of Betsy. The show starred her father in the lead role. Taylor-Ann also appeared in another Baywatch episode in 2000 playing an unnamed character. She then appeared in More Than Puppy Love, a family drama that starred her mother. The movie was released in 2002.
Due to her already famous parents especially her father, Taylor-Ann became a reality star starting in 2009 when she appeared in The Hoff: When Scotty Came to Stay. The TV documentary chronicled around the
visit of Scott Mills, David Hasselhoff's co-star in Hoff the Record, to the Hasselhoffs' family home in southern California. She appeared on two other reality TV show that circled around her family, namely Meet the Hasselhoffs and The Hasselhoffs. Taylor-Ann was also the part of the audience at her dad's Comedy Central roast.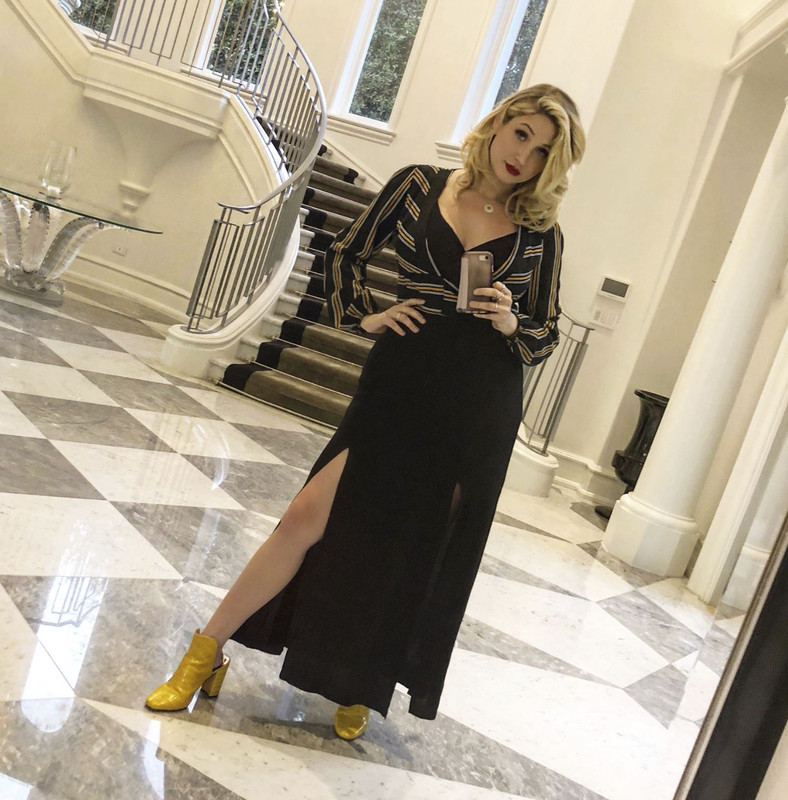 Taylor-Ann was then cast in the 2015 season of Bravo's Rich Kids of Beverly Hills. The reality show which focused on a group of twenty-something millionaires and billionaires who mostly inherited their money was widely panned for its insensitive approach to monetary transactions and for being too gimmicky. She would also appear in two episodes of The Young and The Restless in 2010. Other reality show credit includes The Rachel Ray Show, Hell's Kitchen, and Daybreak. Taylor-Ann also appeared as a special correspondent for Entertainment Tonight. Taylor-Ann would appear in two more movies in her career-
the crime dramedy Sunken City and the adventure action-comedy Sharknado 4. In November 2017, it was reported that Hasselhoff has joined luxury residential brokerage John Aaroe Group as a real estate
developer.
Who is in the Personal Life of Taylor-Ann Hasselhoff?
Taylor-Ann Hasselhoff is a huge fan of spinning. She is a certified spin instructor and even taught spinning in Hollywood for two years. Hasselhoff left teaching to focus on her career.
When her parents got divorced, Taylor-Ann's custody was held by her father but her sister's custody was held by her mother. David would eventually secure the custody of both his daughters. A video, shot by Taylor-Ann, was leaked in the media that showed a drunken David Hasselhoff doing some nonsensical work while his daughter (Taylor-Ann) interrogated him. This led to the public knowledge of David's
alcohol problem.
What is the Net Worth of Taylor-Ann Hasselhoff?
Despite not having a successful career herself, Taylor-Ann is expected to inherit millions from her father whose estimated net worth of $110 million dollars.
Interesting Facts about Taylor-Ann Hasselhoff
Taylor-Ann's first job was as a dog trainer. She has publicly stated her love for dogs.
One of the items on Taylor-Ann's bucket list is to try every food in the world.
---
Actress
Reality Star
real estate agent
David Hasselhoff
Taylor Ann Hasselhoff
Scott Mills
---