Who is Dave Rienzi? Know his Wiki, Career, Bodybuilding Workouts, Net Worth, Personal Life
February 7, 2018
Who is Dave Rienzi?
Dave Rienzi is an American Bodybuilder, conditioning trainer, bodybuilding model and also a businessman, who was born in 25th of April, 1984 in the United States of America. He is 6 feet and 1 inches tall, North-American who is physically fit and sturdy along with dark brown hairs and Brown eyes. His horoscope-sign is Taurus.
Know Career Of Dave Rienzi
Dave is has been involved in bodybuilding professionally, the rough estimation of him being a physique personality ranges almost around to a decade. Dave generally competes in the lightweight class. In 2011, he participated in NPC South-eastern USA Championships and successfully scored the 4th place in the competition. Now he works as a personal trainer in his own gym training center, which is situated in Sunrise, Florida. His specialty is in strengthening and conditioning training. His clients include well-renowned personalities such as Dwayne "The Rock" Johnson. He trained Dwayne Johnson for his role in movies that required a finely sculpted figure, movies such as "Pain and Gain" & "Hercules" were the ones for which he trained "The Rock" for 45 minutes to almost 1 hour. He believes that workout should be short but intense.
Know Dave Rienzi Workout Routine
One of the workout plans made by Dave is as follows
Monday
For all workout except otherwise said do one set of 12 reps, one set of 10 reps and an ultimately super-set of eight reps for each exercising, respectively. Add up the weight after each set. Rest for 90 seconds between two consecutive sets.
Warm up
Cable machine rotations (Internal and external)
Back
Cable row
Pull-ups
One arm dumbbell row
Reverse grip pulldown
Barbell shrugs
Stiff arm pullover with rope
Abs
3 sets of 20 reps for both sides
Rope crunches
Hyperextensions
Tuesday
Warm up
Cable machine rotations (Internal and external)
Chest
Incline fly
Flat dumbbell press
Incline dumbbell press
Cable crossover
Calves
50 reps 3 set each exercise
Leg press calf raise
Standing calf raise
Single leg calf raise ( dumbbells )
Wednesday
Warm up
Leg swings and kicks, foam rolling and glute bridges.
Legs
90 Seconds rest between two sets.
Leg extension
Leg press
Single leg press
Romanian deadlift
Dumbbell Lunges
Abs
Side plank (3 reps minimum, hold 60 seconds)
Thursday
Warm up
Cable machine rotations (Internal and external)
Dumbbell shoulder press
(Seated) lateral raise
(Cable) side lateral raise
Side lateral raise (superset)
Friday
Warm up
Cable machine rotations (Internal and external)
Close grip cable curls
Preacher curls
Barbell curls
V-bar pushdowns
Rope pushdown superset (with rope extension)
Weekend(Sunday)
Rest!
Know Net Worth Of Dave Rienzi
Talking of his net- value, Dave hasn't revealed much about his private profits information publicly. But keeping in mind about his increasing fame inside the profession, it wouldn't be incorrect to say that he enjoys a costly living. Dave is likewise popular in the social media platforms, mostly on Instagram.
In The Personal Life Of Dave Rienzi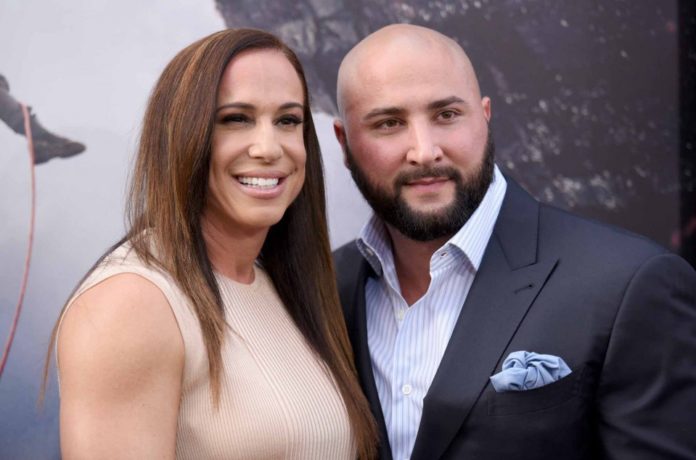 On endeavors such as of marriage, Dave's good fortune again gets linked with Johnson. Dave married his former wife, Dany Garcia, a pro- wrestler and a movie manufacturer in 2014. Dany, who got married to Johnson in May of 1997, has a daughter named Simone, 16 with him. The ex-couple had stayed collectively for eleven long years earlier than getting divorced in 2008.
---
NPC South-Eastern USA Championships
Dwayne Johnson
Dany Garcia
---