Who is Darren Hardy? His Bio, Career, Quotes, Net worth, Personal life, Early life, Facts
April 17, 2018
Who is Darren Hardy?
Darren Hardy is famously known an American author, businessman, advisor, keynote speaker and founding director of SUCCESS magazine. He has written The Entrepreneur Roller Coaster, Living Your Best Year Ever and The Compound Effect. He is the best-selling author in the New York Times. For more than 20 years he has been a central leader in the personal growth & success industry and today's preeminent success mentor. He has led two personal development based television networks-The People's Network and The Success Training Network.
How was the Early Life of Darren Hardy?
He was born on 1st February 1971 in San Diego, California. When he was just over a year old, his parents divorced. His mother abandoned him, and thus he grew up with his father. He got into the business form a young age of 18 years. Then he worked as The People's Network execute producer and master distributor and also as The Success Training Network's President.
How did Darren Hardy start his Career?
At the age of 18, he started his first business. More than 20 years, he has been a leading figure in the successful media business. He became a publisher of SUCCESS magazine and SUCCESS media in 2007. After some years in December 2015, he announced that he was leaving SUCCESS magazine as a publisher to get new opportunities. He held an executive position at two personal development focused television networks (The People's Network & the Success Training Network). "THE COMPOUND EFFECT" was the popular book that made him famous. His popular book is still quoted by top critics as his best work to date.
Quotes of Darren Hardy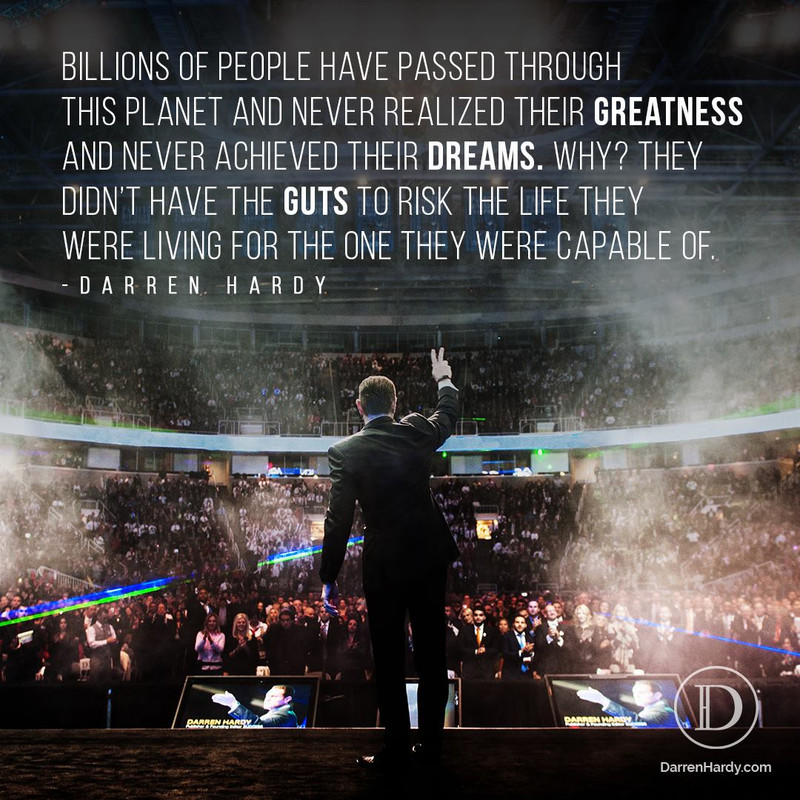 He has written many inspirational quotes on success. His some quotes may inspire you to chase your
dreams and take action on living life on your terms. Some of the quotes are from his books while others
are from his days teaching and keynote speeches which are listed below:-
(1) Everything you need to be great is already inside you. Stop waiting for someone. You have the match.
(2) One step. That's all it takes. Start today and whatever grand goal you have. Leave inertia and take a
single step today.
(3) You will never change something you do daily. The secret behind your success is your daily routine
which you follow.
(4) The biggest difference between successful people and unsuccessful people is that successful people
are willing to do what unsuccessful people are not.
(5) The goal is not to get rich. The goal is to live rich.
(6) Knowledge will improve you, but the only action will turn it into riches.
(7) Make peace with your past. It'll screw up the present and your future.
(8) Allow yourself to go and do it wrong. Don't expect to always get it right. It will prevent you from
doing anything.
(9) Your childhood doesn't have to define you. Neither do your parents. Grow up, lead your own life.
(10) Dreams come with strings attached: Hard work, determination, persistence, sacrifice, compromise,
and passion.
In the Personal Life and Net Worth of Darren Hardy
Hardy got into motivational speaking. He openly and closely shared his own experience with his audience and credits his difficult childhood for his success, independent, confident nature. He is seen to be confident, bold, humorous personality on stage while lecturing. He never relies on notes and believes that natural ability is some few percents (about 1%) whereas other remaining is hard work. In 2001, he married Georgia Hardy and started living with her in San Diego, Miami Beach. The couple relives their first blind date every year for the last 14 years. They enjoyed every bit of it. As they meet on their first date they seem to wear the same clothes, meet at the same place, drink the same glass of wine and munch on the same food.
From his long successful career, Hardy has accumulated a net worth of $4.5 million. However, his salary
is $350,000.
Facts and Updates about Darren Hardy
He once acted as president of The Success Training Network. He shared his works and experience through his Facebook Page, Website and Youtube Channel. He spread short daily videos on how to improve the business, quality of life and productivity.
---
Businessman
author
Darren Hardy
Keynote Speaker
Advisor
Founding Director
Georgia Hardy
---