What is Parker Schnabel's Ex-girlfriend Ashley Yule doing? Her facts & what is she doing?
December 26, 2017
Who is Ashley Yule?
Ashley Yule is a 23 old reality star. She rose to fame when she participated in the Discovery Channel's Gold Rush. Ashley was dating Parker Schnabel. She hasn't disclosed her salary and income from the Gold Rush but it was estimated to be over $80,000.
Facts to know about Ashley Yule:
1. Ashley is very concern about her privacy
Currently, Ashley Yule is no more Parker Schnabel's girlfriend. But, Ashley is very private about her personal matters as well as professional life. Her date of birth, age, occupation, education or anything related to her is still unknown to anyone except herself.
Regarding social media, Yule did not show any trace of her social media when she was in the relationship with Schnabel. Her ex-boyfriend, Parker Schnabel, helped to maintain her privacy.
2. How did Ashley Yule meet Parker Schnabel
When Parker Schnabel was on his trip to Australia, he met Ashley. Sooner the couple fell in love with each other. In fact, Yule traveled to the United States to spend time with the Gold Rush star, Schnabel.
In an interview with Channel Guide talking to Schnabel about his love story, Schnabel says that he and Ashley met in Australia. They hit off pretty well so he invited her over to spend some time in North America. Neither one of them knew what to expect but they had a lot of fun — she's super easygoing, which is what they needed out at a place like that. Ashley just rolls with the punches and helped out where she's needed. If they needed her to drive trucks she would drive trucks. She stayed busy and tried to stay out of his way when he was in rage mode. Yeah, that was fun. It was a good summer. He was really glad Ashley was there for it.
When Ashley was in the Gold Rush, she kept her everything too private regarding her personal life, people wonder if the couple is still dating. But these days we can see few changes through Instagram but yet she is not open.
3. Is Ashley taking Schnabel Home?
According to Starcasm, some fan thinks that Schnabel is convinced by Ashley regarding Gold Rush: Australia. There is a rumor that Schnabel might leave his Alaskan trip behind and might be settling down in Australia for Gold Rush in Australia for a while.
4. Ashley spent her Christmas and New Year with his Boyfriend
In a Facebook Live Question and Answer, Schnabel exposed that he spent the holidays with his girlfriend. But when the questions turned to inquiries about the possibility of marriage, in a response to that Schnabel laughed.
In a saying, Schnabel reveals that he is not getting married anytime soon. He had spent his Christmas and New Year with her then-girlfriend in Australia. They had a lot of fun during those times.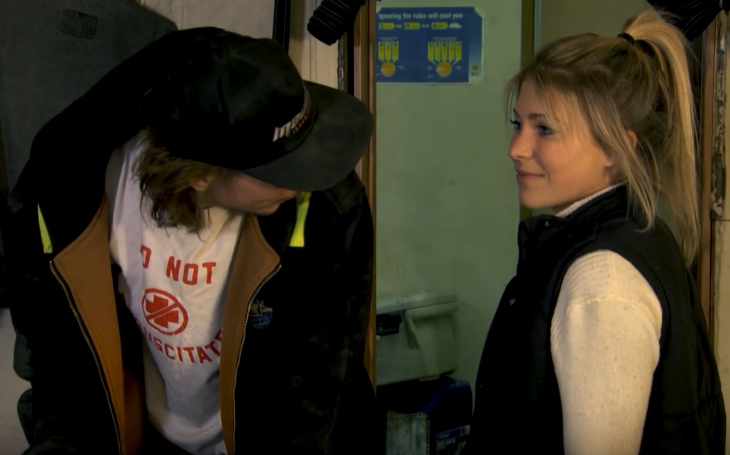 5. Ashley and Parker Schnabel break up
Ashley Yule and Parker Schnabel announced their break up towards the final episode of the eighth season. Parker Schnabel blames himself as the main reason for the break-up and not blaming his ex-saying that he got carried away by success and couldn't give time for the relationship.
6. What is Ashley Yule doing now?
Currently, Ashley Yule has returned to Australia and she seems to be continuing her hip-hop dancing career in Australia. She does everything from videography to dancing and is currently affiliated to the dancing crew, Superhoodz.
---
Parker Schnabel
Gold Rush
Ashley Yule
---