Rashed Belhasa bio, Career, Early life, Personal life, Net worth, Facts
June 2, 2019
Who is Rashed Belhasa?
Rashed Belhasa is a popular social media celebrity and YouTuber, who has attained fame and success at a very young age. Rashed first joined Instagram in May 2013 and then created his own YouTube channel 'Money Kicks.' He started by posting a video titled' Legendary Sneaker Collection' in which he showed off his expensive sneaker collection.
In the Early Life of Rashed Belhasa
Rashed Belhasa was born in Dubai, UAE, on January 5, 2002. His parents Saif Ahmed Belhasa and Sarah Belhasa are among the richest people in the UAE as they own several successful businesses. Rashed was born with a silver spoon as his parents had accumulated a great wealth even before his birth. His family owns several residences around the globe, allowing young Rashed to travel all over during his holidays. Unlike many other rich children, he doesn't want to depend on the fortune of his parents and wants to do something of his own when he observed people go gaga over the limited edition sneakers of his older brother, he became obsessed with sneakers. Since he too wanted to hog the limelight, Rashed followed in the footsteps of his brother and began buying sneakers from all over the world. He eventually fell in love with sneakers and began collecting more of them. In an attempt to show off his collection, he posted a video showing his collection of sneakers.
In the Career of Rashed Belhasa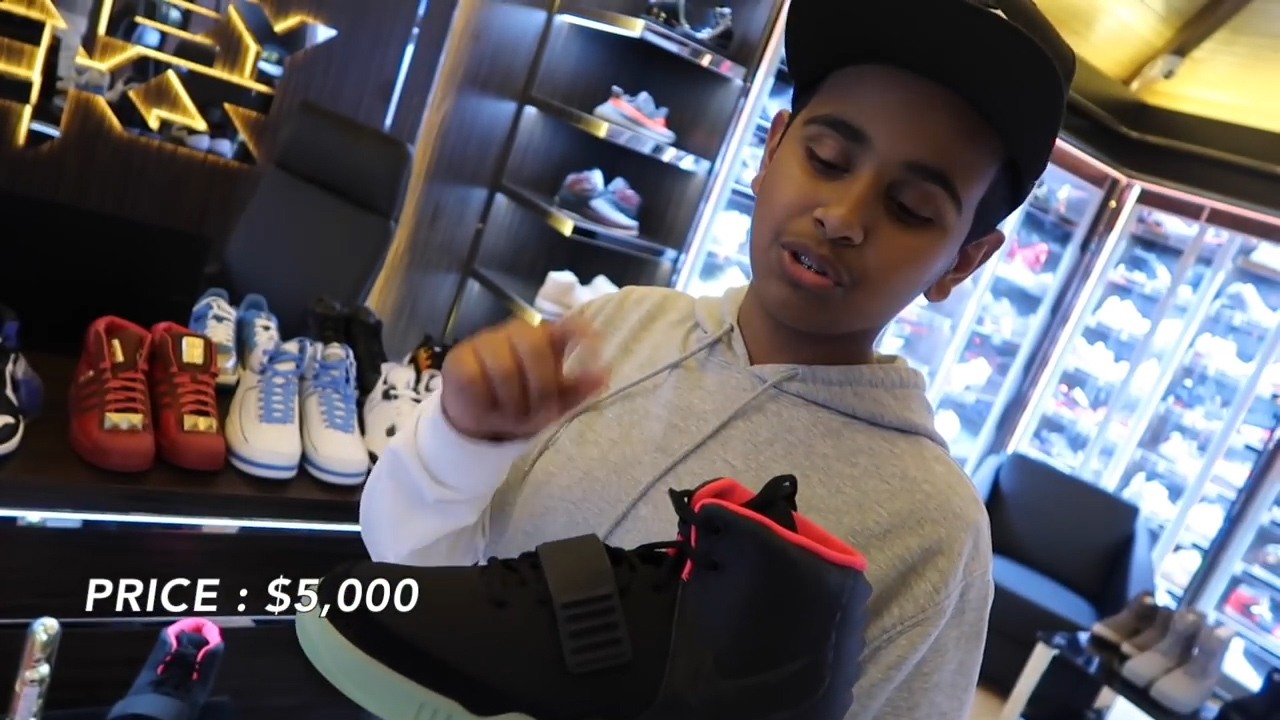 Fig: Rashed Belhasa as YouTuber
Rashed Belhasa created his YouTube channel and named it 'Money Kicks.' On November 3, 2015, he uploaded a video called 'Legendary Sneaker Collection' and this video alone earned him around 4,000 subscribers. The number of his subscribers had reached the 50,000 marks in the next few days. A few weeks later, he uploaded a video that awakened audiences around the world. This video, seen with popular rapper Young Thug, turned out to be a major breakthrough in his YouTube career. He was seen in the video showing Young Thug his impressive collection of sneakers. The video went viral, making Rashed a sensation on the internet.In the next few months, he became more popular. This led several media agencies and other YouTube channels to talk about this super-rich teenager who helped him gain more viewers and subscribers.
Many other celebrities appeared in his videos because of the influence of his father. While sportsmen like Wayne Rooney and Mesut Ozil have appeared in his videos, well-known musicians like Wiz Khalifa and DJ Khaled have also spoken about his sneakers. Rashed also posted unboxing videos, which definitely helped his get more subscribers. He now has more than a million subscribers to his YouTube channel. Many celebrities are still appearing on his YouTube channel. Rashed is also famous on other social media platforms apart from YouTube and has a large following on Instagram and Facebook. Even before creating his YouTube channel, he created his Instagram account. His Instagram account currently has more than 1.2 million followers. He uploads pictures from time to time, which he clicks among other famous celebrities with international celebrities such as Salman Khan, Shah Rukh Khan, Paris Hilton, and
Rihanna.
His Instagram account also gives a glimpse of his lavish lifestyle, as he often displays pictures of his private zoo. Some of his so-called' pets' are tigers, lions, cheetahs, chimpanzees, giraffes, and zebras. His father spends nearly a million dollars annually just to manage the private zoo of his son, according to a few sources. His private zoo was extensively shown in a video entitled' My exclusive private farm tour in Dubai,' featuring popular Indian rapper Raftaar. Rashed was seen flaunting his expensive cars in some of his recent videos. He even claims to have bought those cars with the money earned by posting videos on YouTube. His father, Saif Ahmed Belhasa, appears from time to time in his videos. His father was seen gifting him an expensive SUV in the video titled' My New Yeezy Car.
How much is the net worth of Rashed Belhasa?
Fig: Rashed Belhasa with his super car
Rashed has a good amount of money to spend as he belongs to a wealthy Dubai family. His father, Saif Ahmed Belhasa, is one of the top taxes an individual pays in the country, having an estimated net worth of $2 billion. Adding his father's fortune to his account, along with Vlogging's income, his net worth is nearly $2.04 billion.
In the Personal Life of Rashed Belhasa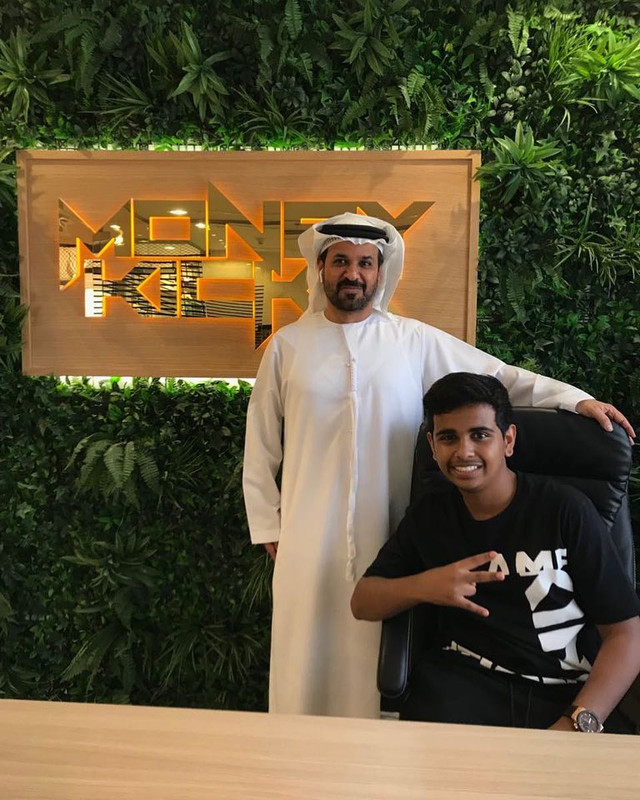 Fig: Rashed Belhasa with his father
Rashed's parents are Sarah and Saif Ahmed Belhasa who is considered to be one of Dubai's most Powerful and wealthy couples. This meant that Rashed was raised with any luxuries including a pet tiger that has often featured in his videos. Saif Belhasa also frequently appears in videos, giving his son a luxury SUV top in "My New Yeezy Car". The wealth and popularity of Rashed allow him to associate with many celebrities including soccer player Wayne Rooney, rapper The Game and Tyga. Belhasa has many contacts in the hip hop industry and has often posted photos of famous rappers such as Wiz Khalifa spending time at the Belhasa mansion in Dubai.
Belhasa's love for sneakers has led him to create the show 'Sneaker Talk' on his channel where regular episodes are added. The show usually features a celebrity, often a soccer player or rapper, coming to Belhasa's house to look at and talk about particular sneakers. Around 26 different personalities have made appearances on the show so far.
---
Youtuber
Rashed Belhasa
Saif Ahmed Belhasa
---