Louis Tomlinson to Judge X-factor 2018: Bio, Career, Net worth, Personal life, Early life
August 29, 2018
It was announced on 17 July 2018, that Louis Tomlinson will be judging on the 15th series of The X Factor alongside Simon Cowell, Robbie Williams and Ayda Field.

The 26-year old singer was also awarded the Choice Male Artist at the 2018 Teen Choice Awards.

Louis Tomilson is an English singer-songwriter, actor and a judge for the talent show, who is most popular as the member of music band One Direction along with Liam Payne, Harry Styles, Zayn Malik and Niall Horan. The band has 4 members as of now after Zayn Malik left the band in 2015. He considers his biggest idol as Robbie Williams. He also praises the phenomenal works of Ed Sheeran.
Career beginning and breakthrough
Started performing in musicals from his teens, Louis also made an appearance as a small role in TV shows like Fat Friends, If I Had You and Waterloo at the beginning of his career. In 2010, he auditioned for the 7th series of The X Factor but could not make it to the final. He finished 3rd in the competition. Followed by his talent showcase, he was invited to join the band named One Direction along with 4 other members the same year. The owner of the band is a corporation called 1D Media. After the release of their first album Up, All Night and their sophomore album Take Me Home One Direction came into prominence from 2011. The first 2 albums Up All Night and Take Me Home broke several records and top the charts globally. One Direction has sold over 35 million albums worldwide since 2011. They have released 5 albums till the day, had 4 world tours and has won various awards. They are one of the most successful musical group of all time. The other popular singles are Live While We're Young and What Makes You Beautiful. In 2012, One Direction was named as the Top New Artist by Billboard. They also appeared in an episode of iCarly in the spring of the same year.
Tomilson founded his own record label under the name Triple Strings as an imprint of his label Syco in 2015. He made a guest appearance on The X Factor 2015 alongside Simon Cowell.
Know about Solo Debut of Louis Tomlinson
Louis made his solo debut with a release of his single titled Just Hold in collaboration with Steve Aoki on 10 December 2016. It reached No.2 on UK Singles Chart and was certified gold in US and UK. Louis and Steve also performed the song on The XFactor UK season finale on the day of its release. He states the performance of the song is dedicated to his late mother. Tomlinson released his second single 'Back To You' featuring American singer Bebe Rexha and Digital Farm Animals followed by Miss You in July 2017. He was listed as the 2017's most influential people in the UK by Debrett. It was announced in 2018 that Tomlinson had a record deal with Epic Records and he is expected to release his debut studio album in 2018. In an interview with BBC Music, he states that his debut album is lyrically inspired by Oasis and Arctic Monkeys.
How is the Lifestyle of Louis with his net worth of $70 million?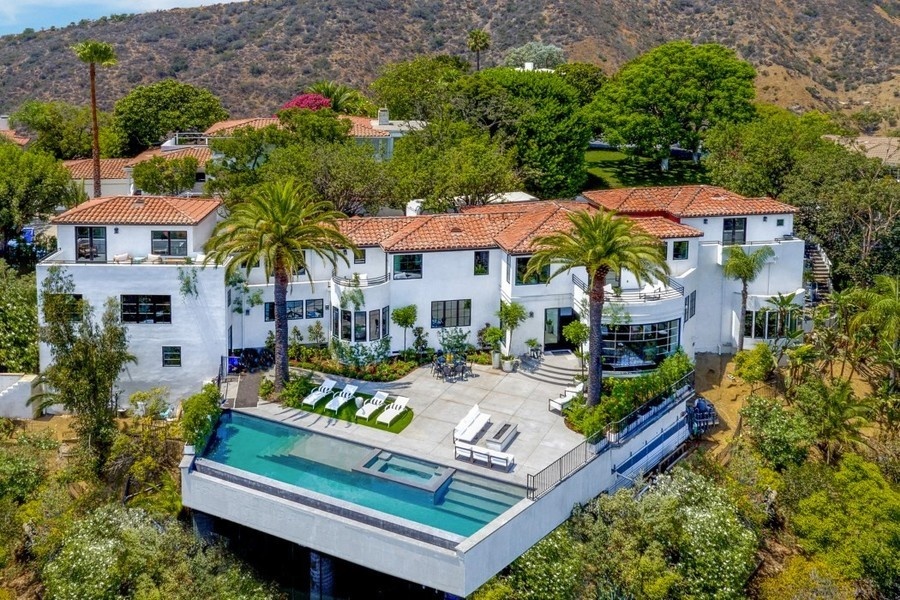 The young and talented Louis makes his most of the income as a pop singer. His net worth as of 2018 is around $70 million which he has been successfully collected mostly through the band One Direction. He is also a semi-pro footballer. Louis Tomlinson signed a contract as a footballer for Doncaster Rovers a team of Football League Championship in 2013. Tomilson has his own record label named Triple Strings.

Tomlinson bought a 4 bedroom, 6 bathroom house in Los Angeles for $7.3 million back in 2016. The property with an area of 6,000 Sq.ft was built in 1937 and is situated above the Los Angeles famous Sunset Strip. It has a breathtaking view of Hollywood sign, state of the art kitchen, guest house, a home-screening room, floor-to-ceiling wine cellar, terrazzo floors, brick-paved pool area, Griffith Observatory and many more.
Let's dig into his Personal life
Louis Tomlinson tied a knot with former stylist Briana Jungwirth on 4 August 2015. They welcomed their son named Freddie Reign on January 21, 2016. Unfortunately a year later the couple broke up. Currently, she is reported to be dating Eleanor Calder and it is revealed that the couple dated in 2011. Previously, he has been in a relationship with Danielle Campbell, Hanna Walker, and Bethany Larkmanhe.

Louis Tomlinson was arrested on 4 March 2017 for battery after he attacked a paparazzo at Los Angeles International Airport. Subsequently, he was released on $20,000 bail.
How was the early life of Louis Tomlinson?
Louis Troy Austin was born to parents Johannah Poulston and Troy Austin on December 24, 1991, in Doncaster, South Yorkshire, England. His parents separated when Louis was a toddler. He took his last name Tomilson from his stepfather Mark Tomlinson. He has 4 half sisters from his mother's second marriage and 1 other half-sister from his father's second marriage.

Louis went to Hall Cross School and completed his A-Levels from there. Academically, he was not good but he enjoyed getting involved in musical productions. He used to work as a waiter, at a Vue Cinema, and at Doncaster Rovers. He performed at several musical productions while he was at Hall Cross. Tomlinson lost his mother to Leukemia on 7 December 2016.
Do You Know Louis is also a Philanthropist
Louis Tomilson is involved in several charity works. He is a supporter of Humanitarian. He and his fellow band member Payne co-hosted a charity ball held in honor of Believe in Magic which aims in supporting terminally ill children. They collectively donated over $6 million to Believe in Magic. Louis is also involved with Children's Hospice and is active in social media also to help enhance the awareness and support for his charity works. In 2016, he joined Soccer Aid star line-up in order to raise the fund for the children's organization UNICEF.
---
Singer
Actor
philanthropist
Reality Show judge
Singer-songwriter
One Direction
Louis William Tomlinson
Robbie Williams
Ayda Field
X factor 2018
Doncaster Rovers
---