Is James Valentine single? His bio, career, net worth, personal life, early life, facts
May 24, 2018
Who is James Valentine?
James Burgon Valentine is the lead guitarist for the rock/pop band Maroon 5. James is an American musician, vocalist, and songwriter. He is an inspiration among many youngsters who want to pursue music and songwriting as a career. Valentine is famous among his fans as 'Blond Jesus' due to his long luscious and blond hair as well as 'guitar god'.
How was the early life of James Valentine?
James Valentine was born on October 5, 1978, in Lincoln, Nebraska, U.S. James was born to Shauna Burgon Valentine and Robert Young Valentine. He has four siblings with one brother and three sisters. His father worked at Brigham Young University as a professor of Latin American literature. While his mother was a school teacher and a former beauty queen. Being born in a Mormon family, he was raised as the member of the church of Jesus Christ of Latter-day Saints. Amanda Valentine, his younger sister has been a contestant on Project Runway and Project Runway All Stars. James attended Lincoln southeast high school where he was president of the high school's student council. He was an Eagle Scout. He got graduated from the University of Nebraska Lincoln and later attended Berklee college.
How did James Valentine start his career?
Valentine, at first played piano then drums and finally realized his passion for guitar. He was inspired by his older brother's band Wax and Wane who rehearsed in his basement. The song 'Surfing with the Alien' by Joe Satriani also inspired James to play guitar. At the beginning of his career, he played in bands like kid Quarkstar, Mondello, Montag, and Happy Dog. Happy Dog changed its name to Square and moved to Los Angeles in 2000. In Los Angeles, Valentine gave private guitar lessons. Soon the members of Kara's Flowers and Square became friends.
Also know about Joe Satriani bio, Early life, Career, Personal life, Net worth, Facts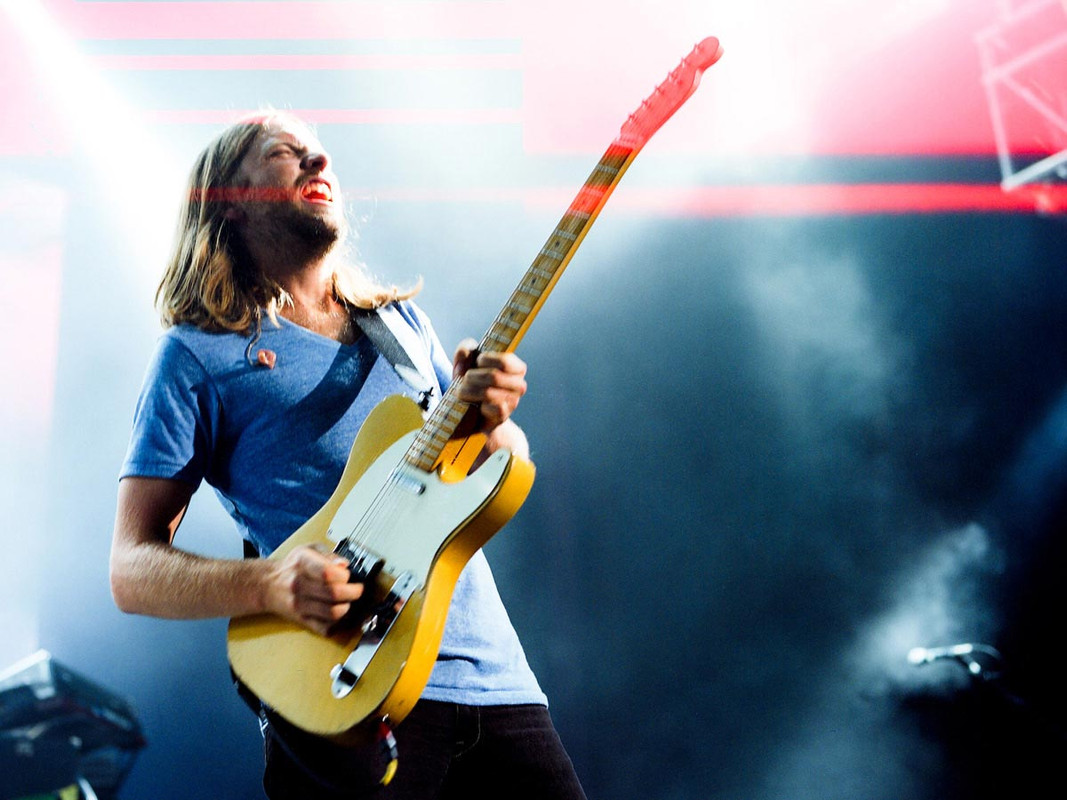 Fig: James Valentine playing guitar during a concert
Later Valentine was approached to be the lead guitarist of the band Kara's flower which later became Maroon 5. John Mayer, a famous guitarist is a friend of Valentine since 1996 when they met at Berks in Boston. Mayer's musical summer tour in 2003 provided ample exposure to Maroon 5 and helped it gain popularity. JJAMZ is a band composed of James Valentine, Jason Boesel, Alex Greenwald, Michael Runion, and Z Berg. Bands' JJAMZ first 'J' stands for James Valentine. He was appreciated for his work in albums like Rabbit Fur Coat (2006), Continuum (2006), Suicide Pact (2012), and singles like Harder to breathe, Moves like Jagger, Payphone, Sugar, etc.
What can be the net worth of James Valentine?
Fig: James Valentines' Guitar
His net worth is estimated to be $4 million. He owns a Hyundai Civic. He also makes some custom guitars naming 'Valentine's guitar' which is quite expensive than the normal ones. And also owns some of the most expensive guitars. He also earns from his albums and band as well.
Who is in the personal life of James Valentine?
Very little is known about his personal life. He loves playing tennis. He was once linked with Katy Perry but, is said to be single now. His father and mother are currently living in Utah. His father, Robert young Valentine works at Utah valley university and mother Shauna Burgon Valentine works at Brigham young university.
What is James Valentine busy with?
He is working with Maroon 5 as their lead guitarist and is also involved in making custom guitars named 'Valentine's guitar'. Recently in an interview, he advised young songwriters to keep writing and writing because only writing improves the quality of songs. He is an inspiration for guitar lovers.
---
Songwriter
Musician
Vocalist
Katy Perry
Maroon 5
James Burgon Valentine
Joe Satriani
Jason Boesel
Alex Greenwald
JJAMZ
Michael  Runion
Z Berg
Blond Jesus
---