Eddie Redmayne's Bio: Career (movies), Net worth, Wife, Awards, Early life, Facts & Rumors
December 26, 2018
Who is Eddie Redmayne?
Edward John David Redmayne, professionally known as Eddie Redmayne, is an English actor, a model known for his role in 'The Theory Of Everything' portraying as Stephen Hawking and Lili Elbe in 'The Danish Girl'. He was best known for appearing in a large number of stage productions in addition to starring in TV series and films. Redmayne took drama lessons at a young age and made his stage debut in Sam Mendes' musical production 'Oliver!' in London's West End. Before making his debut in his first professional stage performance in 'Twelfth Night' at Shakespeare's Globe Theatre in 2001, the hunk ventured into a small screen, making a guest appearance on the family series 'Animal Ark'.
How was the Early life of Eddie Redmayne?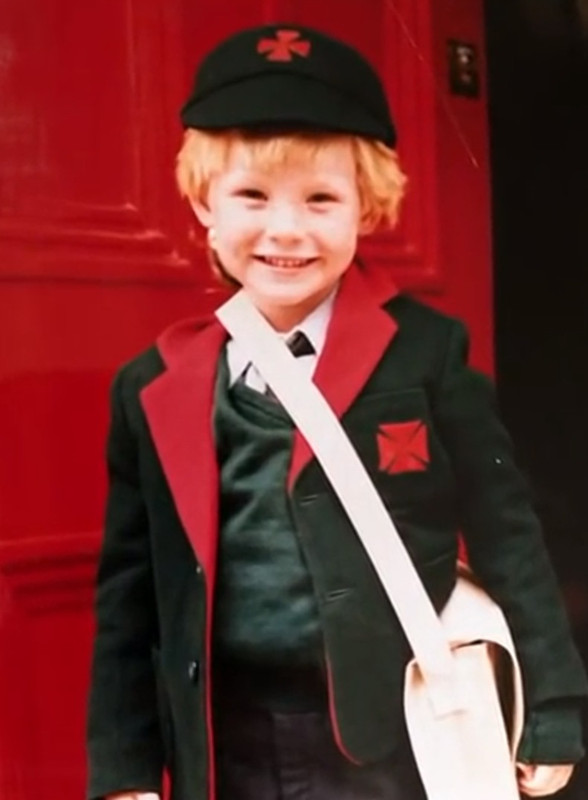 fig: Eddie Redmayne in his childhood
Redmayne took his first step on earth on 6 January 1982 in the London borough of Westminster. He belongs to a business family where his mother, Patricia, runs a relocation business, and his father, Richard Redmayne, is a businessman in corporate finance. Also, his paternal great-grandfather was Sir Richard Redmayne, a civil and mining engineer. In his family, he has an older brother, a younger brother, and an older half-brother and half-sister. At the very early age of 10, Redmayne attended Jackie Palmer Stage School, where he found his love for acting and singing, alongside fellow star James Corden.
Later, he attended Eaton House, Colet Court, and then Eton College. Besides these, he went on to read 'History of Art' at Trinity College, Cambridge, from where he graduated with 2:1 Honor's in 2003.
When and how did Eddie Redmayne start his Career?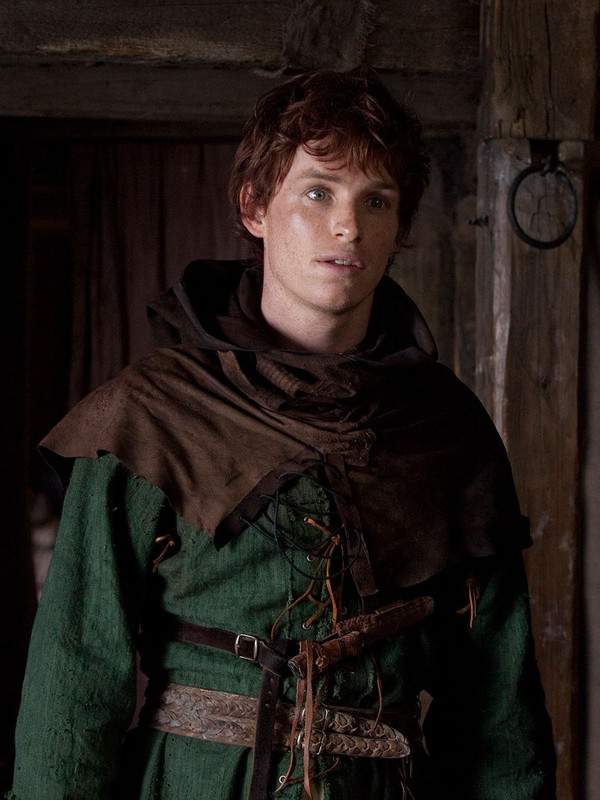 fig: Eddie Redmayne playing a character in 'The Goat, or Who Is Sylvia?'
After completing his degree, Redmayne starred in dramas gave himself a year to make it as an actor. He soon played a role in 'The Goat, or Who Is Sylvia?' a play by Edward Albee. His awesome performance earned him accolades, including the 'Evening Standard Newcomer Award in 2004'. After that, Redmayne had a supporting film role in 'The Good Shepherd' with Robert De Niro and Angelina Jolie. His performance made him earned several English television projects, including such historical dramas as 'Elizabeth I' (2005). Later starred in 'Elizabeth: The Golden Age' which was made for the big screen in 2007 with Cate Blanchett in the title role.
Redmayne continued to land an interesting array of roles which earned him '2007's Savage Grace', where he played a son who has an incestuous relationship with his mother (Julianne Moore). He then acted as a Southern teenager on an unusual road trip in 2008's 'The Yellow Handkerchief' with William Hurt and Kristen Stewart. He also played Scarlett Johansson's husband in 'The Other Boleyn Girl' in the same year. Redmayne has a very successful career in stage performance too. He gave a stellar performance in Red opposite Alfred Molina in the London stage. Molina played artist Mark Rothko, with Redmayne portraying his assistant which earned him an Olivier Award and a Tony Award in 2010. In the next year, he starred opposite Michelle Williams in 'My Week with Marilynn' which is inspired by the true-life experiences of a production assistant on 'The Prince and the Showgirl' (1957) and his relations with legendary sex symbol Marilyn Monroe.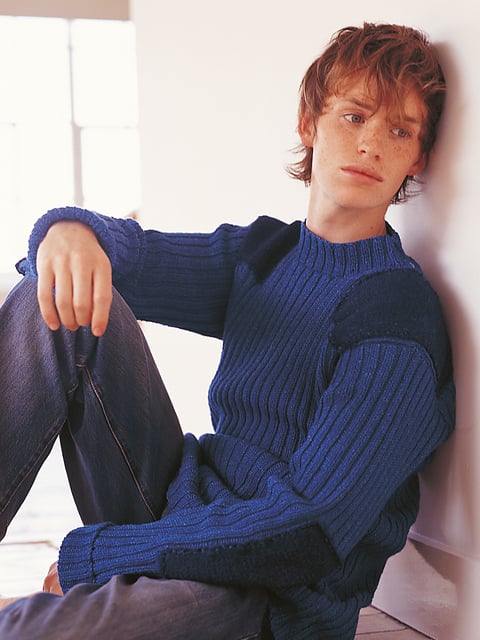 fig: Eddie as a model in his early days of career
Most importantly, in 2014, Redmayne played as Stephen Hawking in the movie 'The Theory of Everything' which was directed by James Marsh. With his performance, he won Oscar Award and Golden Globe Award for best actor male in 2014. In 2015, he again appeared with Oscar winner Alicia Vikander in romance-drama movie 'The Danish Girl' where he again earned both Golden Globe and Oscar lead actor nominations. Recently, Redmayne starred as a wizard 'Newt Scamander' in the 'Harry Potter spin-off Fantastic Beasts and Where to Find them', which was produced and written by author J.K. Rowling in her screenplay debut.
Who is in the Personal life of Eddie Redmayne?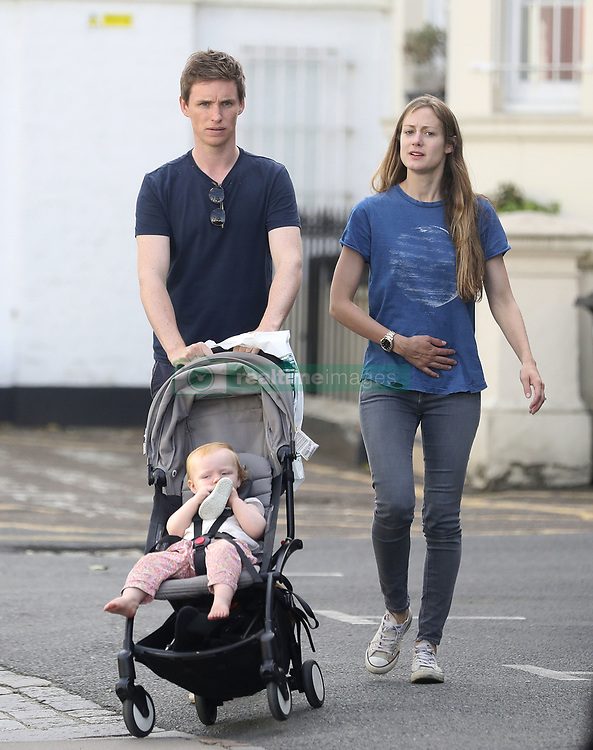 Fig: Eddie Redmayne with his wife Hannah Bagshawe and baby
Redmayne first began dating actress Carey Mulligan in 2011. They were seen many times in public but their relationship did not last very long as they split up soon. Redmayne met spouse Hannah Bagshawe in 2012 who is a public relations executive in the finance industry. After that, they were seen many times in the public and the media followed them almost everywhere. Also, Eddie was seen many times in a vacation with girlfriend Hannah. The couple tied the knot on 15th December 2014 and welcomed a daughter, Iris Mary, on June 15, 2016. Recently the couple welcomed another baby boy in March 2018. Redmayne is very friendly and friends with several other popular British actors, including Andrew Garfield and Tom Sturridge.
What is the Net worth of Eddie Redmayne?
fig: Eddie Redmayne coming out of his car
Redmayne is a British showbiz personality and earned a lot of money from his acting career. He possessed an estimated net worth more than $4 million. His yearly income is estimated to be $484,848 per year. He owns 'Babington house' having full facilities like Swimming pool, Jacuzzi, Sauna, Parking Lot etc. He also owns several luxury cars but mostly seen in Audi.
Facts & Rumors about Eddie Redmayne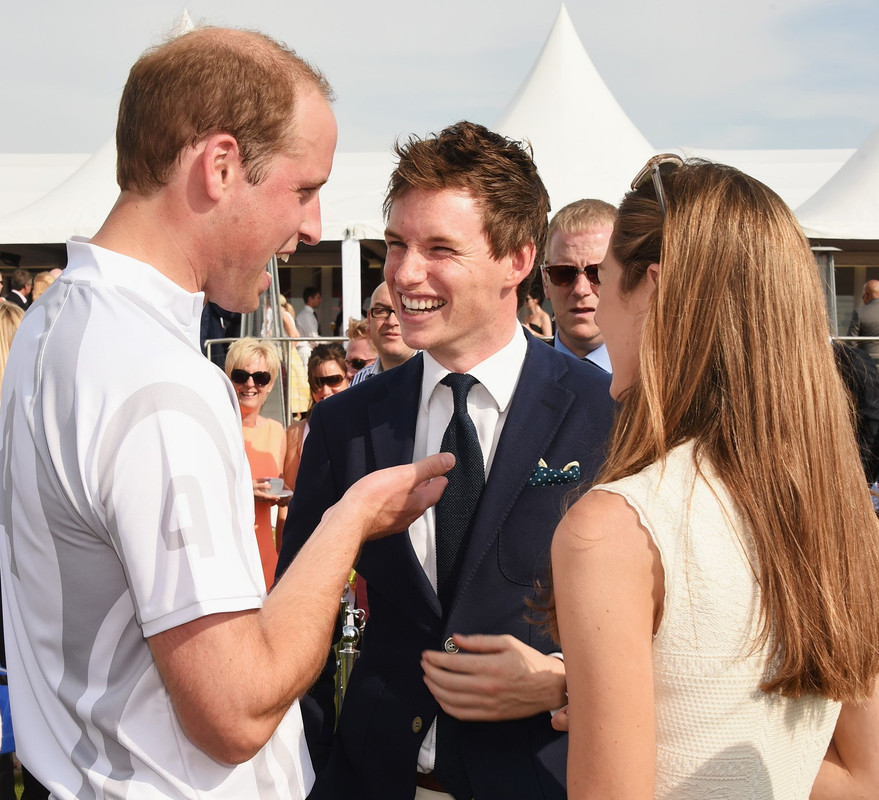 fig: Prince William with Redmayne and his wife Bagshawe
When Redmayne was at Eton College, he was classmates with Prince William, Duke of Cambridge. He was colorblind, although once he wrote his dissertation on Yves Klein's signature color, 'International Klein Blue'. In 2014, he also became the first man born in the 1980s to win an Oscar in acting.
During 2012, there were rumors that Eddie was having an affair with the famous singer, Taylor Swift but this suddenly stopped when he was seen with Hannah Bagshawe his present wife.
---
Actor
model
James Corden
Kristen Stewart
J.K Rowling
Michelle Williams
Tom Sturridge
Edward John David Redmayne
William Hurt
Alfred Molina
James Marsh
Alicia Vikander
Carey Mulligan
Hannah Bagshawe
Andrew Garfield
Yves Klein
---